Anatomie classes, Melbourne University
Down under in Melbourne University, 
Anita Brown-Major
facilitates clinical education sessions about vulva anatomy. This is to be celebrated as there is so little training devoted to sexual health in medical and allied healthcare professional training, and even less on genitalia (especially non cisgender male anatomy).
A bit of recent data:
"There is widespread support for including sexual health as an integral part of the basic curriculum for medical, physician assistant and nursing students. Despite such agreement, a 2003 study reported that in valid responses from 101 of 141 U.S. and Canadian medical schools surveyed, over half offered only 3–10 h for the sexual health curriculum and just a third offered 11 or more hours. Twenty percent of medical schools in the U.S. were reported as not requiring mandatory sexual health courses in the curriculum. A later study found that 44% of US medical schools lacked formal sexual health curricula. In nursing schools, only 1 in 6 instructors thought that their students were prepared to deal with sexuality issues". From : Evaluating the impact of a medical school cohort sexual health course on knowledge, counseling skills and sexual attitude change, 2021.
Interventions with women who have experienced FGM/C, Bruxelles
Cendrine Vanderhoeven
is a sexologist working for
CeMAVIE
at CHU Saint Pierre in Bruxelles. She accompanies women who have complications from female genital mutiliation/cutting. She is using SEX-ED + vulvae and clitoris models to talk about anatomy, sexual function and reconstructive possibilities with the women who visit the center. She is seen here in the
GAMS Be
offices during our visit of the premices.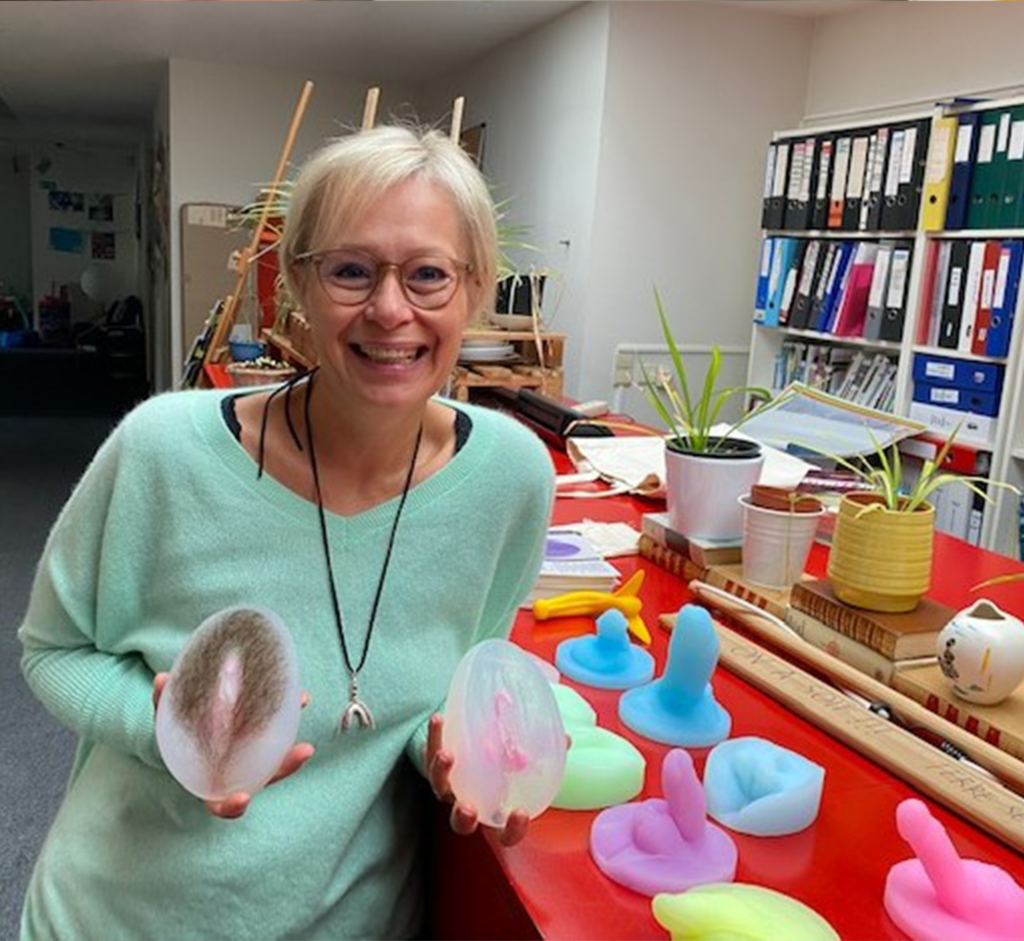 Sexuality education for young people who are Blind or visually impaired, Paris
Stéphanie Kappler, from Universcience, held workshops with Blind and visually impaired high schools students about sexuality and anatomy. They were exposed to different SEX-ED + models: the older ones in plastic and the newer ones in silicone. They reported the silicone ones are more adapted to tactile learning but they wish the vagina was "penetrable" as to better comprehend the spatial situation of female genitals. There is still work to do before SEX-ED + models are really adapted for tactile learning. It's a learning process based on hit and miss and comments from the people in the field trying them out. We will keep on developing material adapted to different learning process.