Far away from home
Attending and volunteering at the 2019 National Sex Ed Conference was a true delight!
So many sex educators to learn from, especially sex educators of color who are requiring white sex educators to question their social positions, unpack their privileges and commit to teach sexuality education in a way that is anti-oppressive and emancipatory for all.

Special thanks to:
Wendasha Hall: "Flipping the script- Reframing sex education for black women and girls". (https://thesensiblesexpert.com)
Stephanie Zapata: " Pulling out and leaning in: unpacking the heteronormative and white supremacist culture in sex education"
Christina Wright: "You gotta eat the booty.Examining the taboos around sexuality and pleasure in the Black community"
Cannady Levone and Siddharth Menon : " Extinguishing locker room and cooler talk: Conversation about masculinity and male privilege." (https://woar.org/)
That special someone
Spending four days with hundreds of sex educators at the 2019 National Sex Ed Conference, you meet amazing people all the time and there are not enough hours in the day to have all the discussions.
Last week, SEX-ED + had a personal and professional crush for @MelissaPintorCarnagey, the person behind Sex Positive Families. (http://sexpositivefamilies.com/)
Melissa is luminous, kind, strong and take it upon herself to lift everyone around her with incredible energy. With the Sex Positive Families project she is developing educative material for parents and caring adults so they can contribute to raise sexually healthy children. It takes efforts to bring into this world sexually healthy kids, teenagers, adults, families and communities in a world that is more often than not sex negative, sexist, racist, ableist and more. Thank you Sex positive families for doing this work!
You know what is their slogan ?
Raising sexually healthy children, one talk at a time.
SEX-ED + slogan ?
Contributing to a culture of consent, one genital at a time.
We were meant to meet!
Listening, understanding, taking action
We need your input on that one.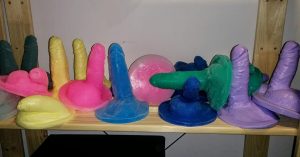 SEX-ED + has made the choice to never use realistic skin color in its models- the only exception being tools made on demand for those working with folks living with intellectual disabilities. The idea was to not let racist stereotypes come into play in discussions around genitalia. But last week, at the 2019 National Sex Ed Conference, Dr. Wendasha, The Sensible Sexpert during her talk "flipping the script, reframing sex education for black women and girls" insisted on the need to have pedagogical material representing darker skin tones, because it doesn't exist and people of all skin tones need to see themselves represented in the pedagogical material used by their educators.
Our goal is to answer the needs of professionals. What's your take on this issue? Would you rather have tools with realistic skin tones? Or not? If yes, we may have to go attend a silicone painting class somewhere