Because SEX-ED + would never have existed without the artistic, activist and scientific publications of others, let's put the spotlight on people who give us food for thoughts. Cliquez ici pour voir la liste des titres en Français.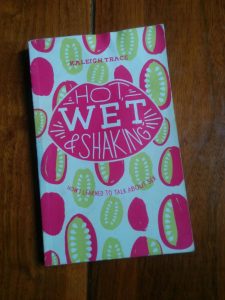 Hot, Wet and Shaking, by Kaleigh Trace, Invisible Publishing. The author – disabled, queer, sex-educator – chronicles her journey from ignorance to bliss as she shamelessly discusses her sexual exploits, bodily negotiations and attempts at adulthood, sparing none of the details and assuming you are not polite company.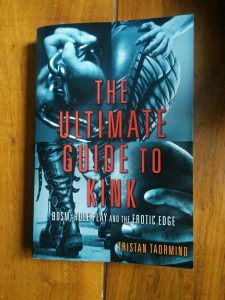 The Ultimate Guide to Kink, Tristan Taormino, Cleis Press. The Ultimate Guide to Kink is the first major guide to BDSM in a generation—a bold and sexy collection of essays that run the gamut from expert how-to tutorials to provocative essays that delve into complex questions about desire, power, and pleasure. The book brings together diverse voices from the kink community in an unprecedented way: each chapter is written by a different sexuality/BDSM educator. Divided into two sections, the first section features thorough, thoughtful pieces—on everything from flogging to bondage—packed with techniques and beautifully illustrated with original images from artist Katie Diamond. The second section is dedicated to role-playing fantasies and personal manifestos. From age play to masochism, these chapters cover some of the edgiest, most taboo and controversial elements of kink in depth. It will educate, inspire, and challenge both newcomers to the world of kink and experienced BDSM players. Also available in audio book.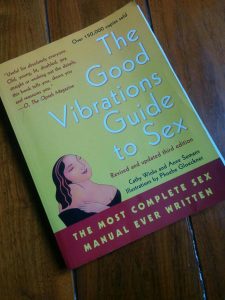 The Good Vibration Guide To Sex, by Cathy Winks and Anne Semans, Illustrations Phoebe Gloeckner, Cleis Press. This book is billed as "the most complete sex manual ever written". One reader named Ken Poirier left this comment on Good Reads: This book should be read by anyone who has ever in their life considered having sex.  SEX-ED + is in total agreement with this statement.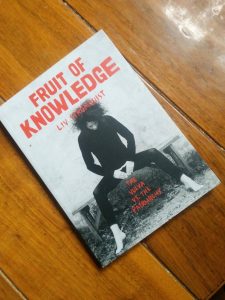 Fruit of Knowledge, Liv Störmqvist, Virago, International Publisher of Books By Women. From Adam and Eve to pussy hats, people have punished, praised, pathologised and politicized vulvae, vaginas, clitorises, and menstruation. In the international bestseller Fruit of Knowledge, celebrated Swedish cartoonist Liv Stroemquist traces how different cultures and traditions have shaped women's health and beyond. Her biting, informed commentary and ponytailed avatar guides the reader from the darkest chapters of history (a clitoridectomy performed on a five-year-old American child as late as 1948) to the lightest (vulvae used as architectural details as a symbol of protection). Like Alison Bechdel and Jacky Fleming, she uses the comics medium to reveal uncomfortable truths about how far we haven't come.
Girl Sex 101, Allison Moon and kd diamond, Lunatik Ink. Girl Sex 101 is a sex-ed book like no other, offering helpful info for ladies and lady-lovers of all genders and identities, playful and informative illustrations on each page, and over 100 distinct voices, plus a hot narrative that shows you how to put the info to good use! Learn how to navigate the twists and turns of female sexuality, with special guidance from sixteen guest sex educators including Nina Hartley, Sex Nerd Sandra, Jiz Lee, Tristan Taormino, Julia Serano, Reid Mihalko and more!
A celebration of Vulva diversity, book by the vulva gallery, This is us Books. All vulvas are unique just like our hands, noses and eyes are. Through there's often just one kind of vulva shape presented in popular media. Wether it's in magazines, mainstream porn or even biology books, the "beauty ideal" that is often been presented to us is pink, small and mostly hairless. And of course this could be you. However, in many cases it won't be.  Having a vulva that looks different to this beauty ideal leaves many of us feeling weird, ugly or ashamed. This books aims to open up conversations about a topic that is still surrounded by taboo and shame. By showing diversity, educating ourselves on anatomy and sexual health and openly talking about our experiences and our insecurities, we can change the way we look at our bodies- and the bodies of others. Oh, and did you notice that the ribbon bookmarks represent the diverse skin tones? A very thoughtful and caring touch, like everything in this book.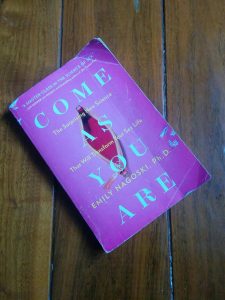 Come as you are, Emily Nagoski, Simon & Shuster. An essential exploration of why and how women's sexuality works—based on groundbreaking research and brain science—that will radically transform your sex life into one filled with confidence and joy. Researchers have spent the last decade trying to develop a "pink pill" for women to function like Viagra does for men. So where is it? Well, for reasons this book makes crystal clear, that pill will never be the answer—but as a result of the research that's gone into it, scientists in the last few years have learned more about how women's sexuality works than we ever thought possible, and Come as You Are explains it all. The first lesson in this essential, transformative book by Dr. Emily Nagoski is that every woman has her own unique sexuality, like a fingerprint, and that women vary more than men in our anatomy, our sexual response mechanisms, and the way our bodies respond to the sexual world. So we never need to judge ourselves based on others' experiences. Because women vary, and that's normal. Second lesson: sex happens in a context. And all the complications of everyday life influence the context surrounding a woman's arousal, desire, and orgasm.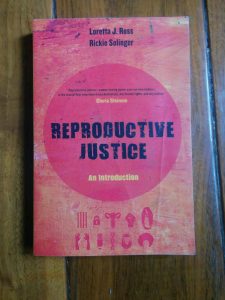 Reproductive justice, an introduction. Loretta J Ross and Rickie Solinger. University of California Press. If you work on the sexual health and sexual education field, you MUST know about the analysis and actions of the Reproductive Justice movement. Reproductive justice is both an analytical and a practical approach as well as a movement that emerged in the United States in the 1990s. The phrase was developed by African-American women during the International Conference on Population and Development, held in Cairo in 1994. It resulted from a fusion between "social justice" and "reproductive rights". Reproductive justice situates the fulfillment of complete sexual and reproductive autonomy for women and girls within the larger sphere of social justice. This movement emerged from the initiative of Indigenous women and women of colour who continue to advance the initiative. Loretta and Rickie are two fundamentals figures of this movement. A must-read, this history of reproductive oppression and struggles must be known, especially considering than most sex educators are middle class white women.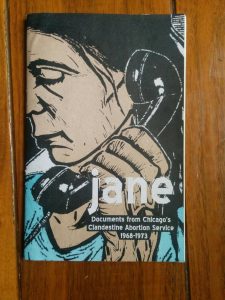 Jane, Documents from Chicago's Clandestine Abortion Service 1968-1973. Compiled and published in 2004 by Firestarter press. Cover by Merrydeath Stern. justseeds" Jane was the abortion counselling service affiliated with the Chicago Women's Liberation Union (CWLU). Before abortion was legalized in 1973, Jane members, none of whom were physicians, performed over 11,000 illegal abortions. Their philosophy was that women had the right to safe humane abortions and that if it wasn't legally possible, then it was up to the women's liberation movement to take up the slack. Jane took its medical and social responsibilities seriously. So careful training and a human relationship with the women who needed abortions were an important part of Jane experience. Known officially as the Abortion Counselling Service of the Chicago Women's Liberation Union, "Jane" was the name people would ask for when they first made contact.
Peggy Orenstein,  with both Girls and sex & Boys and sex, Harper publishing. The author of the New York Times bestseller Cinderella Ate My Daughter offers a clear-eyed picture of the new sexual landscape girls and boys (mostly from an heterosexual point of view) face in high school through college—and reveals how they are negotiating it. Because it is always better to listen to the voices of those who are discovering sex in those days and age (rather than presuming of their practices and feelings)…